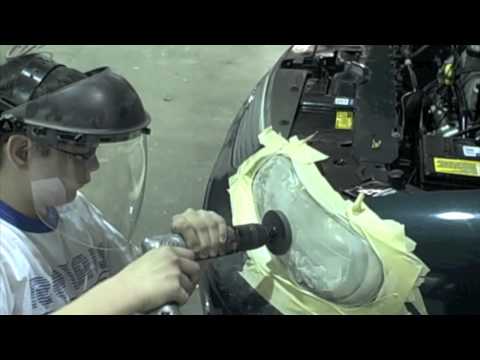 My boys and I made this video to determine how easy this kit is to use.  There is a higher 3M video below.
Product Information
Search For Coupuns and Savings – To Find Automotive Coupons and Discounts Visit CollisionBlast.com/Coupons
Product Features
Easy, 3-step process requires as little as an hour to remove scratches and restore cloudy, dull lenses
Features 3M abrasive technology and a polishing compound to restore hazy and dull headlight lenses, as well as other plastic lens surfaces on your vehicle
System is intended to restore two headlight lenses
Utilizes the muscle power of a common household (1200-1600 rpm) drill to do all the necessary sanding and buffing
This headlight was not near as bad as some of them that we have restored.  However, the key it to prevent them from getting that bad in the first place.  If they are already completely hazed over, this is a safety hazard with limited vision at night.
Have you ever noticed how horrible hazy, foggy or cloudy plastic headlight lens can make your car look?  You spend hours each years cleaning your car, but those dirty looking headlights never look clean.  Not only does it look bad, it can also cause less light to pass through the lens resulting in poor vision at night.  We have taught students in our automotive collision repair program how to restore the headlights to a brand new look.  Now, thanks to 3M, you can get the same results yourself with a little time and effort.  Customers are being charged anywhere from $50 -$100+  to have this done at a shop.  Watch the video that my boys and myself  made to learn how to do headlight restoration.
After trying the DIY kit we found it to be easy to use.  It is easier when using the body shop supplies, DA sander and buffers, but for the DIY, this kit provides a system that anyone can go with a little time and effort.
RESOURCES
1.  Drill – Electric or Air Will Work – You Can Find One At Walmart or Home Depot
2.  Headlight Restoration Article – The Overlooked Opportunity
3. 3M Headlight Restoration Kit
4. Spray Bottle – Any Type Will Work Fine
5. Masking Tape To Mask Adjacent Areas To Prevent Sanding Marks
6.  Detail Cloth
Watch 3M's Video For Additional Instructions
CLICK HERE FOR PDF STEP-BY-STEP INSTRUCTIONS
IMPORTANT STEPS BELOW
1. If you have any questions, I am here to help.  Just visit our Q&A Page on Facebook
2. To learn how to use a clay bar to improve your cars appearance, click How To Use A Clay Bar.
3. If you found this tutorial helpful, do me a favor and click the Facebook like button below.