In this video you are going to learn a few tips for repairing rust damaged with replacement parts.  Part of the floor pan, rocker panel, and corner cab have all been rusted out.  In addition to the rust, there is also prior repairs that have been made to the 1972 Chevy pickup, which can make the job more difficult.  Although, when restoring older vehicles, you will run into prior repairs often.  You will also learn a few of the tools needed to cut the parts to make the needed repair.  As mentioned in the video, there are many ways to cover the rust, but that is a temporary fix.  To do it right, the rust must be cut out and replaced.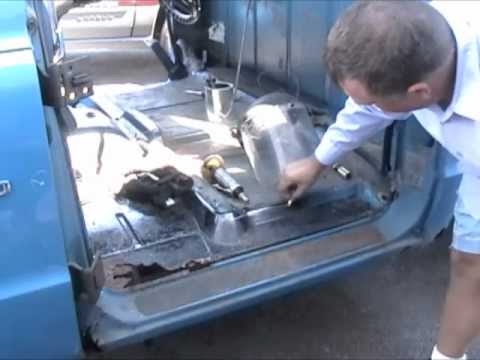 Below are the steps taken in this video:
STEPS
Remove the drivers side door.  A floor jack or door jack can be used to help balance the door to prevent it from dropping and being damaged.
Remove gas tank – To prevent sparks from creating an explosion.
Plan your cuts before actually cutting the damage.  Be sure not to cut further than you new repair panel is going to cover.  Also keep in mind that that there will be more rust on the back side of the panel then on the front side.
Cut rusted areas off with a cut off saw. – Creates sparks so be sure to wear proper protection to protect yourself from injury.
Care should be taken not to cut braces, wire, fuel lines, etc. – Monitor you progress as you go.
Use a air hammer to cut metal that the cut off saw can't get to. – An air hammer will get to the harder to reach areas, but they do not produce a cut as clean as with the cut-off saw.
Remove the rusted sections so can get to the areas that need to prepared for welding on the new replacement parts.
What you will need for the first 7 steps:
As I have mentioned, I looking for valuable resources to provide you with training.  This is a good video to get you started in the right direction for rust repair.  I will be posting more restoration, rust repair and other video tutorials soon.
If you found this tutorial useful, why not give it a thumbs up?  Just click the fb like button below.  Thanks for watching!