Auto Market Weekly is brought to you by SearchAutoParts.com and AutoNetTV.com 
 "This week, Express Oil reports recorded growth, Mitchell 1 is offering new training opportunities, ASRW kicks off and AAPEX offers education credits to attendees."
OTHER NEWS
 NACE 2010
We just returned from NACE 2010.  There was great training and we met some awesome people.  I would personally like to thank the 3M team for their kindness.  I really enjoyed meeting and visiting with them.  KUDOS to 3M!
Jody DeVere with askpatty.com presented a class, "What Women Want!"  This class helped give the repair shops insight of how to market to women customers.  The fact that women influence 85% of all automobile purchases, purchase 65% of new cars and 53% of used cars; I believe that we better take this seriously if we want to stay in business in the future.  If not, you may lose over half of your customer volume….pay attention!     You can visit her website at AskPatty.com
 Bob Cooper with Elite Worldwide presented "Stop Dreaming and Start Achieving."  This class taught us about setting, defining and reaching our goals for our business.  He talked about building a plan and how to make that plan successful.  It was a great class and awesome training.  Bob has many of his audio training available for download on his website at EliteWorldWideStore.com – Check It Out
 There were other great classes that I will tell you about in upcoming posts.  As far as NACE Exposition…….we were a little disappointed.  I had several students attend this year that were looking forward to visiting with Iwata and Sata.  However, we could not find them.  If they were there, they were difficult to find. 
 That is it for now, but check back as we'll tell you more about the training classes that we attended!
One last thing!  It has nothing to do with collision repair, but it was cool to see.  Check out the little people Elvis and Marilyn…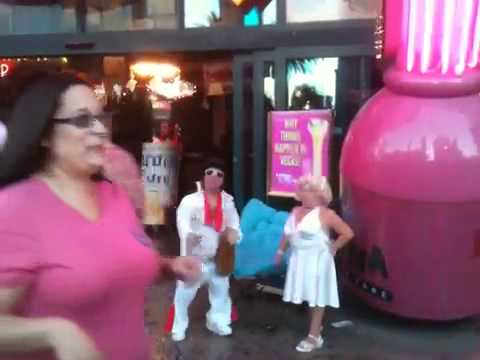 Hook A Buddy Up by Being A Resource – Like It – Share It – Post on Facebook and Twitter