FIND COLLISION REPAIR JOBS
LIST COLLISION REPAIR JOBS
Welcome to the job listings dedicated specifically to the collision repair industry.  Find the perfect job or attract high quality technicians by listing your job opening below.
CURRENT JOBS
Find A Job: Are you looking for a career in collision repair or other related automotive career pathways? This page is full of career information and the career pathways that auto collision repair can lead to, the collision repair salary that a collision repair technician can expect to earn, explore auto body repair schools and other collision training and career resources. We also have jobs that are currently available in the industry.
Find Help: Let's face it, you need top notch employees to help make your business successful.  Highly qualified people are unemployed right now looking for work.  Collision repair programs are currently training the upcoming technicians that will need a auto body shop to start their career.  Don't limit the success of your business, open it up to thousands of potential technicians.
This website is dedicated to the collision repair industry and the job listings above are collision repair and related jobs.  If you list your job with us, you will be targeting the people looking for a job in the collision repair industry.  We're one of the top searches for collision repair jobs.  Not only will your opening be searched, but we will spread the news for you as well.  Your listing will be blasted on our website, Facebook, Twitter, etc. to help you attract the best candidates to fill your position.  
Collision Repair Schools: There are many businesses that will only hire experienced technicians.  I appreciate and understand your point of view.  However, I would like to remind you that we all had to start somewhere.  There are many outstanding collision repair programs working hard to prepare students for the industry.  Are they going to know everything; of course not.  Is every student going to shine in the industry once completing the program; no!  However, if you have a big enough pool of candidates to choose from, you can select the technicians, experienced or not, who will be the best fit for your company.  I know some shops don't have a new technician training program or time to spend dealing with employees with no work experience.  I am just encouraging you to keep your mind open to entertain the option.
Whoever your ideal candidate is, I invite you to list your opening with us to have your job spread to a targeted audience ready to fill the position.
Collision Repair Information
This is the broad career pathway, which can lead to the other careers mentioned on this web page.  Collision repair training can lead you to collision repair or paint technician, auto detailer, parts, management, business owner, custom car builder, and many other possibilities.  We will be posting these pathways on this page.  Here is some in information about a career in collision repair.
Why choose collision repair as a career pathway?

Hands-on: Why should your job be boring and dreadful? You can earn income doing the things you like to do. If you're someone that likes working with your hands, a high-tech environment and you enjoy being able to step back and see the results of your work; then collision repair may be a good fit for you.
High income potential: I-Car Education Foundation completed a survey, showing the average income that a collision repair technician earns. You may be surprised that the average income of $51,312 is higher then many other comparable trades. In fact, the top 10% earn $88,460. Although, just like with any career, you shouldn't expect this your first year on the job. These are the incomes you can expect to make with years of experience, hard work, and commitment.
Job Security: As roads and highways become more populated with vehicles, the results are more auto accidents. Unfortunately, the automotive industry is not finding enough trained technicians to properly repair these modern day vehicles. This means job security for you.
Work will never be outsourced: Think about it! Could you imagine a damaged vehicle being loaded on a ship, taken overseas, repaired, and shipped back to the customer…it's not going to happen. We need trained collision and paint technicians right here in the United States, in every state and every city to repair our cars. As a technician, you will never have to worry about your job being outsourced.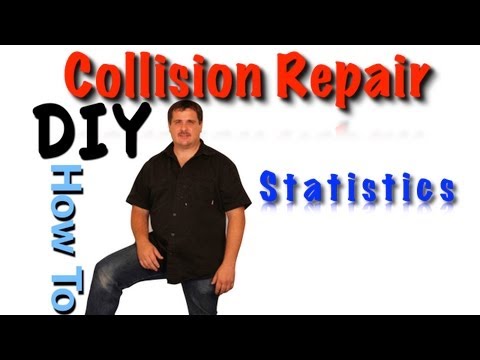 In this video interview, Bob Wilson, Select Service Inspector for State Farm gives a few tips for students interested in a auto collision repair career pathway.
Interview With Bob Wilson of State Farm Insurance In Regards To A Career In Collision Repair

Are you interested in collision repair a professional career?  Take a look at some of the NATEF accredited schools that offer collision repair training.
Of the 16 Career pathway clusters, Collision Repair falls under the transportation cluster.  Occupational Specialities code 16.40180 – O Net Auto Body and Related Repairs code: 49-3021.00 source.
According to O Net, Collision Repair Technician's medium salary is $18.26 hourly, $37,980 annual.  In 2008 this occupation employed 166,000 technicians.  From 2008 to 2018 (10 year projected growth) the collision repair industry is stable without a decline employment.  The job market projects 43,800 job opening form 2008 to 2018 (10 year projection.)  For additional information visit:
Auto Detailing
There is a lot of money to be made in auto detailing.  People are keeping their cars longer and want to keep them nice looking and well maintained.  A well maintained vehicle also helps the resale value when it is time to trade it in or sale it.
Car Detailing includes: washing the insides and outsides of vehicles, removing interior stains, polishing and waxing the paint surface, detailing engine compartment, tires, etc.  There are also other things that you may to consider to incorporate into a car detailing business, such as headlight restoration and paint touch-up.
Paintless Dent Repair (PDR)
What Exactly Is Paintless Dent Repair?
Paintless dent repair is the process of repairing small dings, dents, and hail damage without repainting the surface. This is done by using special tools that reach behind the panels to massage the dent out. For dents with no access other pdr tools may be used to pull from the top side of the panel being repaired.
What Can A Paintless Dent Repair Technician Expect To Earn?
This can fluctuate a lot due to how busy you stay, how fast you are, and if you work for a shop or for yourself.  According to SimplyHired.com, the average PDR Technician Earns $51,000. However, keep in mind that a big percentage of PDR work is seasonal, such as hail damage. There are PDR technicians that follow storms make significantly more. Well over the $100,000 range. Therefore, the income you earn is going to vary depending on if you do PDR full time or part time.
Franchise Automotive Business Opportunities
Another business model to consider is starting an automotive franchise.  The benefit of this is you will start in business with an established brand, which can take years to achieve on your own.  You will also receive training and learn proven methods of doing business though out the franchise business.  You may also be eligible for group benefits, as the company can buy cheaper with volume purchases.  The disadvantage of starting a franchise is the start-up cost may require more money up front.  To learn more about auto franchise opportunities visit:
OTHER USEFUL LINKS FOR AUTOMOTIVE CAREERS
Bureau Department of Labor – Career Info
Collision Repair Passion Story
Finding Your Passion In Collision Repair
SCRS Collision Repair Code Of Ethics
NATEF Accredited Collision Repair Schools