---
Lesson 4 – Dent Repair –  Below are the videos included in this lesson.  Click on video to watch.

---
---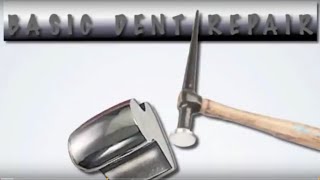 Dent Repair Overview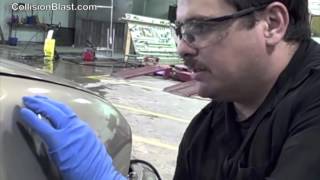 Using Hands - Dent Repair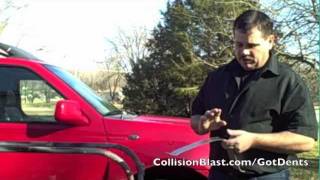 Work Hardening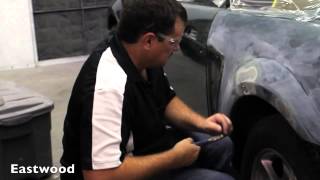 Dent Repair Using Stud Welder Gun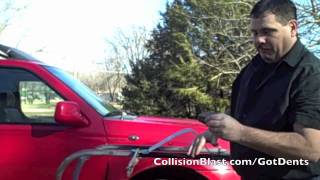 Basic Body Repair Tools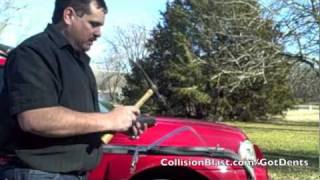 Hammer Off Dolly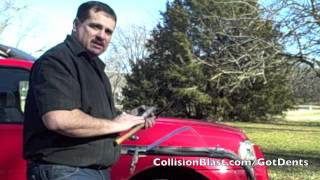 Hammer On Dolly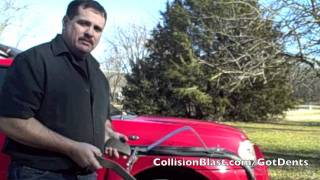 Using a Slappin Spoon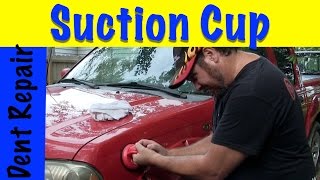 Suction Cup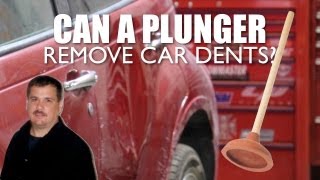 Air Assist Suction Cup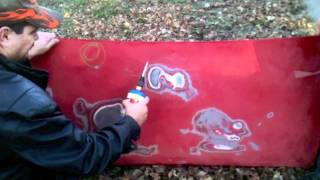 Dent Repair Using Heat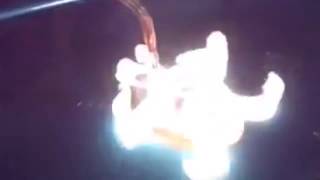 Metal Shrinking Using Heat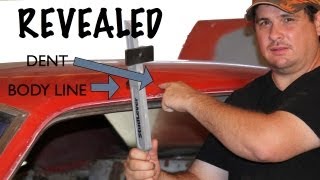 Body Line Dent Repair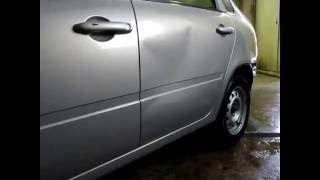 PDR Demonstration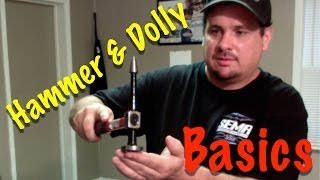 Hammer and Dolly Basics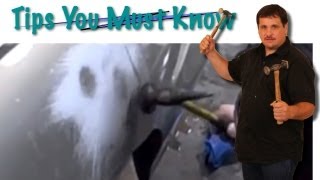 Dent Repair Process
Dent Repair Overview

This is a video overview of lesson 4 - Metal Straightening

Using Hands - Dent Repair

If you can reach behind the panel and pull out on the low with one hand and push down on the high with the other hand, then simply use your hands to repair the damage. The dent may still need a little hammer and dolly work afterwards, but I have repaired many dents with nothing but my hands. Remember today's metals are thin and it does not take much to damage a part or to repair it. One word of caution, when I mention using my hands, I am only using force; I am not striking the panel with my palm or fist. Striking the panel with your hand may result in injury.

Work Hardening

This photo is of a fender that has extreme body lines and contours. This is an example of work hardened areas that were stamped into the part from the manufacture. Work hardening can be caused by an accident when the metal is reshaped out of its original shape. If you remember in vehicle history, we discussed that car makers were able to use lighter weight steel by designing more body lines into the panels. When body lines are designed into a panel, it causes the metal to become work hardened. Therefore, some work hardening is designed into the part when stamped and formed from the manufacture. As mentioned, additional work hardening can be generated from an accident. So why is work hardening important to you, the repairer? This is because work hardened metal is stiffer and harder to reshape. Not only is it stiffer, it is also more brittle. Therefore, care must be taken not to overwork the metal in work hardened areas. I grew up on a farm, but I think you can relate to this. If I needed a piece of bailing wire and did not have a pair of pliers at the time, I would bend the wire back and forth until it broke into. Have you ever done something similar to this? I did this because I saw my dad do it. I'm sure he did this because he saw his dad do it. Probably no one was thinking, I am going to take this piece of wire and bend it back and forth to its work harden state until the wire becomes brittle and breaks into…but that is what happens. With that said, trying to get the metal perfect or trying to metal finish thin metal can result in unwanted tears and rips in the metal. Work the metal as close as you can without overworking it, and then use body filler to fill the small imperfections. Evercoat, 3M, and other companies who make body filler state that body filler can be up to ¼ inch after sanded. I try to get it a little straighter then that, but you should be able to get most dents within ¼ inch of the final contour of the panel with no problem.

Dent Repair Using Stud Welder Gun

A stud welder gun is a tool that welds a small stud to the metal surface. This stud provides something for the t-handle or slide hammer to grab on to. Force can then be applied to remove the damage.

Basic Body Repair Tools

Hammer and dolly is probably the easiest repair method, but it requires that you have access to both side of the panel being repaired. However, newer cars have many areas that do not allow you to use hammer and dolly, as there is limited access. Hammer, dollies, and other tools such as spoons and slapping files are used for straightening metal. They come in different shapes and sizes to fit the specific damaged panel you are working on. A large flat area needs a flat dolly and hammer. If the repair area has a crown, you will need a hammer and dolly to fit the contour of the panel. Choose tools that fit the shape of your panel.

Hammer Off Dolly

Hammer Off Dolly Hammer off dolly is used to remove a majority of the dent. Same rules; start with the indirect damage and move towards the direct damage. Use your dolly to push your lows and your body hammer tap down on the highs or vice-versa. Hammer off dolly should be used until the final straightening stages. TIP: Use your dolly to strike the back side of the dent to rough out much of the damage. Then use the hammer off dolly method to continue the repair process.

Hammer On Dolly

Hammer on dolly is used in the final stages of metal straightening to level the smaller imperfections. Once you have straightened the metal using the hammer off dolly, use the hammer on dolly to level out the ripples. Hammer on dolly is also extremely effective when repairing the edges on panels. Please be careful not to use hammer on dolly too much, as this stretches the metal. If metal is over stretched, it must be shrunk.

Using a Slappin Spoon

This tool can be used with a dolly as well. This is similar to hammer on dolly, as you hold the dolly on the back side of the repair and strike the front side with the slapping file to straighten the metal during the final stages. This spreads your strike over a larger area and the file has small teeth on it, which reduces stretching the metal. This tool works best on older thicker steel, but I still find it useful on certain repairs on the thinner steels.

Suction Cup

Does a bathroom plunger work for removing dents? I get this question a lot. Suction cups can be effective for roughing out the damage, but there is usually going to be highs and lows that will need to be straightened after that. So if it is a shallow dent, a plunger may work, but probably will not have enough suction power pop the damage out. If it does pop out that easy, what keeps it from popping back in with just a slight push? The metal must be worked and locked back into place.

Air Assist Suction Cup

They make suction cups that grab better than a bathroom plunger, but they still do not provide a complete fix. We have some suction cups that hook up to air that creates additional vacuum. These work well for roughing out the damage. Just keep in mind, this works best rough roughing out big shallow dents. The dent may still need additional straightening and shrinking.

Dent Repair Using Heat

Using Heat To Raise Dents - This is an older method many people used to use on the older cars with thicker metal. You would have to be very careful on thinner metal not to overheat and wrap the metal. If you can get behind the panel, it helps to push out on low area to move damage out and prevent it from sinking in the wrong way. This method is quick, but does not work on every dent. If you see the metal start to sink in, stop and use another method on that dent. This works well in you have an older car with small dings and dents that you plan on repainting. This is not PDR as you are going to file the paint surface. You can do a lot of dent in a short time with this method, but it does take a little practice. I normally use oxy/acetylene torch because you can pinpoint the heat to raise the low easier. But I was at my house and did not have oxy/acetylene so I used a propane torch. It did not work as well, but it got the job done.

Metal Shrinking Using Heat

Metal Shrinking - Someone left holes in the panel and had several inches of body filler covering it. This led to rust. We welded a patch to the quarter and had to metal shrink several areas to get this repair back to normal. This is the bad thing about working on previous repairs…you never know what you're getting in to. It may be necessary to shrink the metal. The metal may become stretched in the repair process or it may have been stretched during the accident causing the damage. For whatever reason the metal is stretched, this is very easy to identify and correct. There is a term called "oil canning, which is referring to stretched metal. This is where the metal pops in and out like the top of the old style oil cans. If you are younger, you may not remember this type of oil can that I am talking about, but it is similar to a coffee can. Anyway, this is where the metal pops in and out very easy. You certainly would not want to repair a car and have someone barely lean against the car and the fender pop in. This is cause by stretch metal or too much metal in the area. They make body hammers that have small teeth (shrinking hammer) to slightly shrink the metal. However, many times it will require heat to shrink the metal. This can be performed by using a torch or stud welder gun. Heat the highest area (stretched area) to a dime size until red. Then using a body hammer lightly tap the red spot to help spread the molecules in the metal. Lastly, cool the repair with a wet sponge or compressed air. This is the only time that you want to use air or water to cool the repair area. Normally, you want to allow the areas to cool naturally. Quenching is only used for metal shrinking. The heat will expand the metal which is the opposite of what you want to do, but when quenching it with water or compressed air, the metal will shrink more than it expanded resulting in the metal to shrink back to its original shape. This also makes the metal stiff to eliminate it from popping in and out. This process may need to be performed several times to completely correct and shrink the damaged area.

Body Line Dent Repair

You\'ve been asking for body line repair, so I have one for you. This is not an extreme body line repair, but the video does cover the steps needed to repair a body line. Body lines can be challenging especially, one with multiple body lines.

PDR Demonstration

This video demonstrates how to remove a door dent using paintless dent removal methods.

Hammer and Dolly Basics

Hammer and dolly basics are covered in this YouTube video. We\'ll also talk about selecting the right tool for the job. The auto body tools covered in this video are: universal dolly, toe dolly, heel dolly, wedge dolly, chisel hammer, pick hammer and shrinking hammer. As mentioned in the video, it is more important to focus on the shape of the tools than the names of them, but it is good to know both. Just remember to keep it simple....use what works.

Dent Repair Process

This is a video demonstrating the dent repair process.
---
Would you like to watch the other videos in each lesson?  Click the lesson below to watch the videos.
---
Make Sure You Receive New Upcoming Videos
by Subscribing Below
[grwebform url="https://app.getresponse.com/view_webform.js?u=BPt&wid=73581″ css="on" center="on" center_margin="200″/]