I have had several questions on my YouTube channel about candy paint, tinted clears, pearls and tri coats.  So here is a quick video explaining and demonstrating this.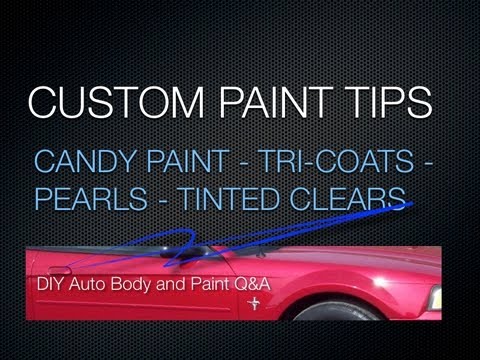 Here is a little information not in the video.
Opaque – Not transparent or translucent; impenetrable to light; not allowing light to pass through.  The base coat is opaque, which hides everything underneath.  Therefore, base coat should be applied until full hiding is achieved.
Translucent: permitting light to pass through but diffusing it so that persons, objects, etc.  Mid coats (candy, pearl, tinted clear) are translucent, which change the appearance of the color, but do not fully cover the base coat.  Depending on the color of the base coat and/or the number of coats of mid coat applied with determine the color.
Transparent: having the property of transmitting rays of light through itssubstance so that bodies situated beyond or behind can be distinctly seen.  Clear coat is transparent, which does not change the appearance of the color.  Clear coat is applied to provide UV protection and a glossy finish.
Candy or Tinted Clear: Basically the same thing.  A translucent color to produce depth and awesome colors.
One more thing, Jacob drew a new logo for me.  I took a photo of it and uploaded it, what do you think about it?
Thanks for visiting!  Please share this with your Twitter and Facebook friends!